Fast, soothing relief for bug bites.
The #1 selling treatment for chigger bites is back to take a bite out of the pain and itch caused by all types of bug bites. Families have relied on Chiggerex for over 50 years for fast, soothing relief, and when you have a winning formula, you don't mess with it. That's why we're bringing back the original Chiggerex formula and the same iconic packaging you know and love. Others may try to imitate us, but there is only one Chiggerex.
Key Ingredients:
Chiggerex is pain relieving ointment specifically designed to take the pain and itch out of chigger bites. But it doesn't stop there – Chiggerex works just as well on all types of insect bites!
Our unique, original formula has active ingredient, Benzocaine, to relieve pain and Aloe Vera and Chamomile to help soothe the skin. It absorbs quickly, leaves no residue, and has a mild peppermint scent. And unlike other brands, Chiggerex contains no insect repellent. Because who would want to wear insect repellent to bed?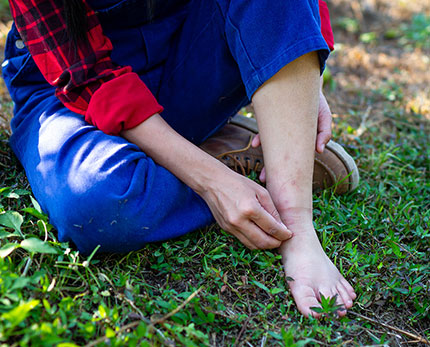 10% Benzocaine

A well-known topical anesthetic, Benzocaine is used to quickly alleviate the pain and itch caused by insect bites. Pain relief is achieved by temporarily numbing the nerve endings in the skin around the area in which it is applied.

Aloe Vera

This gel obtained from the leaves of the Aloe Vera plant has been used in healthcare for centuries. Aloe Vera helps soothe the skin faster.

Chamomile

An herbal remedy often used in traditional medicine, Chamomile has properties that help soothe the skin and reduces signs of redness. Its essential oil is extracted from daisy-like flowers.
The Chiggerex Advantage
Treats chigger, tick and all bug bites.

When you spend time working or enjoying the great outdoors, insects are part of the deal. Though originally designed for chiggers, Chiggerex also works wonders on all other bug bites, from spiders and ants, to mosquitoes, flies, and bees.

Provides fast, soothing relief.

Chiggerex is a pain relieving ointment made with time-tested ingredients. When applied to an insect bite, Benzocaine goes to work fast to bring you relief from the pain and itch, while Aloe Vera and Chamomile help to soothe and and reduce signs of redness.

Portable. Convenient. Iconic.

The simple and compact Chiggerex container is perfectly sized to fit in any medicine cabinet, first-aid kit, backpack or toolbox. And this is important, because insects are everywhere and Chiggerex should be too.

The original formula. Unchanged.

When you bring back a classic, you don't want to mess with what made it great in the first place. So while we're happy to make the #1 treatment for chigger bites available again, you can be confident we haven't changed a thing.